Items in Red added since the launch of the site. 
Celtic Inscribed Stones Project – UCL's database of all monumental non-runic inscriptions in Celtic speaking countries, AD 400-1200. Link.
Corpus Inscriptionum Latinarum. On-line database, and photo collection. Link. 
Corpus Inscriptionum Latinarum II, website includes links to photos and entries for:
             CIL II2/5 – Conventus Astigitanus. Link.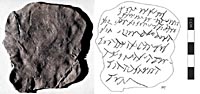 CIL II2/7 – Cordubensis. Link.
            CIL II2/14.1 – Tarraconensis pars meridionalis. Link. 
Curse Tablets of Roman Britain. Link.
Epigrafia Medievale - regionally-organised bibliographies of Medieval epigraphy. Link.
Epigraphic Database Roma. EAGLE. Electronic archive of Greek and Latin Epigraphy. Link. 
Epigraphik-Datenbank Clauss/Slaby (EDCS). Link. 
Epigraphische Datenbank Heidelberg. CIL, AE, and many more recent corpora, with a notable coverage of the Balkans. There is also an on-line bibliography, and over 20,000 photos. Link.
Hispania Epigraphica. Online database. Roman Inscriptions from the Iberian Peninsula. Link.
ICUR-on line. Christian Inscriptions of Rome Database. This so far contains 26,164 inscriptions. Link. 
Inscriptions of Roman Cyrenaica (2009). Link.
Kiel Rune Project (focuses on the Older Futhark). Link.
Last Statues of Antiquity. Link. 
Ogam-Inschriften – Jost Gippert's database of ogham inscriptions. Link.
Packhard Humanities Institute. Database of Greek Inscriptions. Searchable, and browseable, and divided by regions. Link.
Reynolds, J.M. and Ward-Perkins, J.B., enhanced electronic reissue by Boddard, G., and Roueche, C., (eds.), Inscriptions of Roman Tripolitania (2009). Link.
Samnordisk Runtextdatabas. Full downloadable database of all Scandinavian runic inscriptions from across Scandinavia, Eastern Europe, Italy, Greece, Turkey, Iceland, Ireland and the British Isles. Link.
Visualizing Statues in the late antique Roman Forum. Link.